You know how you have one ball appearing to be closer than another? If they were in 3D and you were to stand above them, you would see an angle -  that is kind of what I mean. But you don't need to be precise about it, just good enough to fool the eye.
So, you would draw the smaller ball in the background, then in front of it you would draw the connecting bar, but the bar has to start at the correct spot [ie (x+f*r*cos a,y+f*r*sin a)], then draw the bigger ball on top.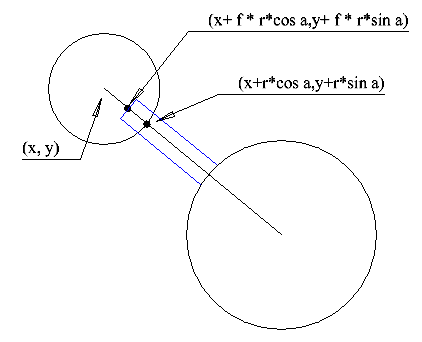 In this case f would be about 0.7, all you have to do is estimate f. I would start by looking at the relative sizes of the balls and also how far apart they are.
Note:  f would be 1 when the balls are the same size. It would also be 0 when the balls are on top of each other. Just play with it until it looks good.
---
"The physicists defer only to mathematicians, and the mathematicians defer only to God ..."  - Leon M. Lederman